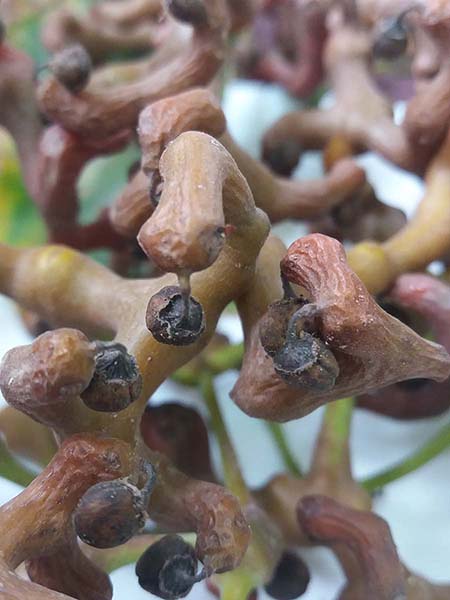 Botanical name:  Hovenia dulcis
Crown and root system:  This is a dry season deciduous shade tree that grows in most parts of the country (except for the southern Negev).  It can grow in most types of soil.  The crown has a lovely pyramid shape and its root system is extensive but non-invasive.
Description of the fruit:  The fruit is inedible.  It is shaped like a small black ball that cannot be chewed, and its shape and texture are similar to black pepper.  The edible and tasty part is the stalk of the fruit, which softens and has a tropical flavor and juicy texture.
Growing regions:  All over the country.
Ripening date:  Fall to the beginning of winter.
Planting in a container:  Cannot be planted in a container because it is too tall.
Recommended planting season:  All year round. 
Good to know:
This is excellent for use as a pioneer tree in a garden because of its rapid growth rate.  Additionally, the stalks can be frozen for eating at any time as a delicious and healthy snack.