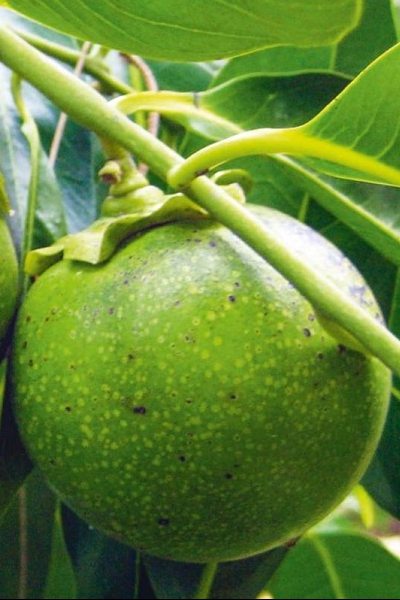 Botanical name: Diospyros nigra
Crown and root system: This is an evergreen tree with a moderate crown and lovely foliage.  The root system is non-invasive.
Growing regions: Areas where there is no frost.
Ripening date:  During the winter months.  The flesh of the fruit has a chocolatey color and its flavor is reminiscent of carob-cocoa.  For health reasons it is recommended that the fruit not be eaten unripe, but only when it is ripe and has softened.
Planting in a container: Not recommended.
Recommended planting season: All year round, except for the cold months. 
Good to know:
In Central America the black sapote fruit is used as a basis for fruit shakes, because of its rich texture, delicate sweetness and nutritional value.  The sapote is rich in vitamins A and C, as well as potassium and calcium.  Nevertheless, the fruit should only be eaten after it has fully ripened!  Indications of ripeness:  The fruit falls from the tree, the peel becomes soft and the fruit turns a brown color.