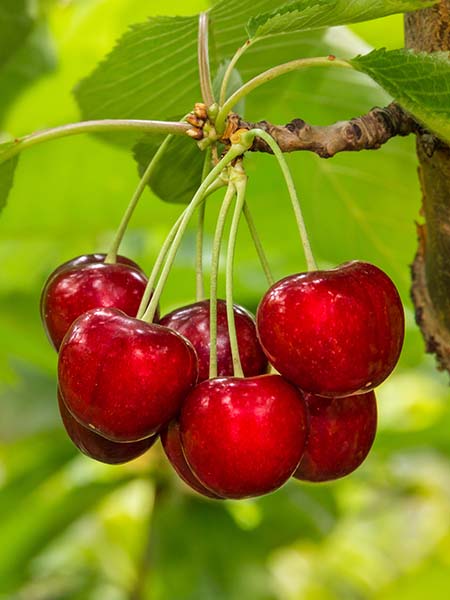 Botanical name:  Prunus avium
Crown and root system:  The sweet cherry tree has a narrow, tall crown and lovely white or pink flowers, depending on the variety.  Its root system has multiple branches but is not invasive.
Growing regions:  Anywhere in the country except for those areas that are particularly hot.
Ripening date:  Summer months, depending on the variety.
Planting in a container:  May be planted in a container.
Recommended planting season:  All year round.
Varieties sold in our nursery:
LH 17:  This variety ripens at the beginning of the season with small sweet fruit that are dark red.  The number of fruit is high in the central area.
 Good to know:
Everyone loves cherries.  But, in reality, these aren't sour cherries (Prunus cerasus or duvdevan in Hebrew) but, rather, sweet cherries (gud'gedan in Hebrew).  The fruit of the Prunus cerasus are sour, but the deliciously sweet fruit that we are sold grow on the Prunus avium tree.