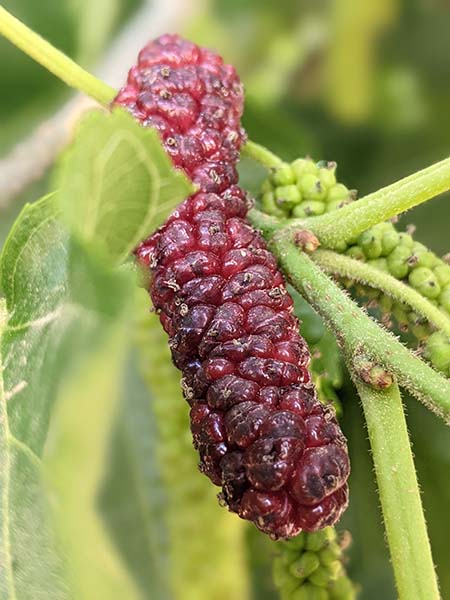 Botanical name: Morus macroura
Crown and root system: This is a deciduous tree with an extensive crown and strong branches.  Children can climb the tree without fear, or can build a treehouse in its branches.  The root system is extensive but non-aggressive.
Growing regions: All over the country except for where it is particularly hot.
Fruit and ripening date: The long mulberry ripens in early summer.  Its fruit can reach up to 10 cm. long, and is sweet and exceptionally tasty.  The fruit, relative to other mulberries, has less of a staining effect on the soil because they fall off less and their flesh is more solid.  Additionally, the shelf life is somewhat longer.
Planting in a container: Cannot be planted in a container.
Recommended planting season: All year round.
Special care:  We recommend covering the tree with netting to protect it against insects and birds.
Varieties sold in our nursery:
Afghan mulberry: This tree produces long, thick berries with a distinct aroma that are very sweet.
Pakistan mulberry: This tree features long, thin berries that ripen quickly.
King white mulberry
Good to know:
The original name of this fruit is "Himalayan mulberry" because it originates from the Himalayan peaks in China, India and Pakistan, where it grows and yields fruit at an elevation of 5,000 meters above sea level.