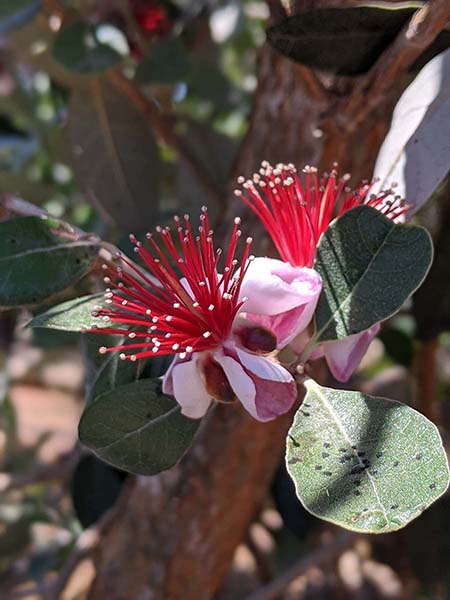 Botanical name:  Acca sellowiana
Crown and root system:  This is an evergreen shrub with a dense, medium-sized crown and lovely greenish-silver foliage.  Can be used as a hedge.
Description of the fruit:  The fruit is elliptical, with a greenish skin and light-colored center.  It has a juicy texture and a tropical flavor, with a pleasant aroma.
Growing regions:  All over the country, including areas that are especially cold.  Because it can withstand salinity, it can be grown close to the coastline.
Ripening date:  Beginning of winter.
Planting in a container:  May be grown in a container.
Recommended planting season:  All year round, except for very cold areas.
 Varieties sold at the nursery:
Sloor:  This variety has particularly large fruit.  The tree's crown is somewhat thinner than the Kanneh variety.  We recommend planting this tree adjacent to a Kanneh tree as it helps increase pollination.
Feijoa Kanneh:  Yields smaller fruit than the Sloor variety.  The tree's crown is extensive and dense.  Helps with pollination of the Sloor variety.
Good to know:
The feijoa apparently contains a large quantity of iodine, and at one time it was believed to be beneficial to those with thyroid conditions.  According to unverified reports, when the Soviet dictator Stalin was stricken with his final illness they rushed to him, in a special plane, a daily supply of feijoa fruit from the southern USSR.