Botanical name:  Ceratonia siliqua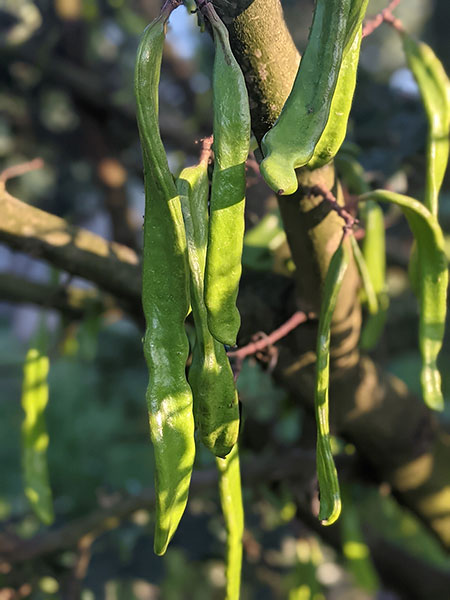 Crown and root system:  This is an evergreen shade tree with a broad crown and a think central trunk.  It can reach up to 10-12 meters high.
Growing regions:  Anywhere in the country except for places that are especially cold and/or above 400 meters in elevation.  The carob can be grown in almost any type of soil, including rocky or chalky soil.  Mature trees can be irrigated just from rain because its root system is deep, extensive and especially strong.
Ripening date:  Carob trees flower in October. The drying and maturation process takes 10 months and ends in August of the following year.  Fruit is collected in September-November when the pods fall easily from the tree (you can shake the branches and collect the pods from the ground).
Fruit:  The carob fruit grow only on a female tree.  At the nursery we sell compound female varieties that originate from a fine variety with a high and stable yield and fruit that have a high sugar content.
Planting in a container:  Not possible.
Recommended planting season:  All year round. 
Varieties sold in our nursery:
A compound female carob, without fragrance that grows quality fruit with a rich texture and a high sugar content.
 Good to know:
The carob tree is an excellent alternative to the olive tree (which is considered to be allergenic), in places where we would like a tree that is native to Israel with a sculpted appearance.